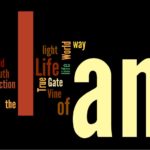 Jesus, gives us a Christmas present of the I AM Presence. Imagine a gift that allows you to have all the health, love, happiness and success you desire. Watch this video to see how.
Do you have any comments or stories of how you have used this in your life to achieve something?
Happy Birthday Jesus and Merry Christmas to all.
Like this info? Subscribe to my posts and get a free "How the Law of Attraction Works" section from of my book Awaken Your Power at JoeRapisarda.com
Joe Rapisarda
Author and Success Coach
JoeRapisarda.com
Click here to buy the book, Awaken Your Power.