As a success coach, I often see people who have developed limiting beliefs about themselves.
These beliefs are often based on what other people (usually family and friends) think about them.
These limiting beliefs act as barriers or walls that prevent that person from moving on to greater successes in life.
Tonight I witnessed something very special in the sports world.
Being a black belt in karate, I love mixed martial arts (MMA).  I watch the UFC (Ultimate Fighting Championships) often.
Tonight I saw TJ Dillishaw from Sacramento beat the champion Renan Barao in dominating fashion.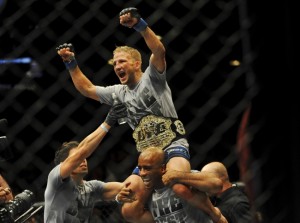 What is amazing about this is that Renan Barao was considered one of the greatest pound for pound fighters in the world.  He has looked unbeatable in his last 5 fights.
To add to this, I have watched many of TJ Dillishaw's past fights and I considered him to be an average fighter at best.
Based on his past fights, I thought he would be prey for Barao.
Never in a million years did I think Barao would be the one who was being stalked.
But one person was not surprised – Dillashaw. He consistently believed he was the best and put in the work to make it a realilty.
In the last year, he became the prized student of his striking coach Duane "Bang" Ludwig, who himself is a retired UFC fighter.
Tonight I saw before my eyes, how Dillashaw applied belief and action to change the world's opinion about him and to change his own destiny.
His fight tonight was one of the most impressive upsets I have ever seen – a point that was echoed by the announcer Joe Rogan.
After beating Barao, Dillashaw has now achieved his dream of being a UFC champion fighter.
Congrats TJ, you did it. You achieved your goal and elevated the way the world thinks about you.
My point is that we should never let the opinions of other affect how we feel about ourselves, and if you feel that people don't respect you enough then go out to do something to make them change how they see you.
This is a lesson I learned early in life. If the people around me didn't see me with the same respect as I saw myself then I endeavored to achieve something greater to make them change their mind about me.
I didn't need their acceptance but I did like achieving success, and to me, this was part of it.
I let my actions define who I was.
When I was in 8th grade and I had made the team but was not getting much playing time at first.   I hated sitting the bench.
I set a goal to break into the starting lineup.
I worked extra hard each day after school to get better.
My father showed me little things such as body positioning and toughness in "The paint" (under the basket) that allowed me to get more rebounds.
He also showed me how to how high percentage shots such as the lay-up and close hook shot would allow me to score more points.
Lastly he showed me that the by driving to the basket I would get fouled, which would allow me to get to shoot free-throws, which were an easy way to score points.
All of these little helpful tools, along with a winning and determined mindset allowed me to move from the bench to a starter in only a matter of months.
I simply did the little things better than the others  on my team who had similar talent.
I then took that model of success and applied it to football, basketball, baseball and rugby throughout my high school career.
Years later, I wanted to help people with life by coaching them, but I found society didn't yet see me as a life coach.  They didn't respect my opinion.  Who was I to give them empowering advice?
I then endeavored to change all that, so Iwrote my first book, Awaken Your Power, which became an award winning self help book on Amazon.com.
After that people began to seek me out for answers to life's problems.
Today people hire me to coach them to success in all aspects of life ranging from business, life, marriage, financial success, health and healing and much more.
So if you want a better life or if you want people to give you more respect, start acting and doing things that will change their opinions about you.
What is really important is that you see yourself with respect and admiration you deserve.
The truth is that we can accomplish whatever we want in life if we are willing work towards our goals with belief and affirmative actions.
Here's to your bright future!
Check out my coaching website at www.JoeRapisarda.com
Until next time,
Joe Rapisarda
Author / Success Coach / Speaker
Checkout my website at www.JoeRapisarda.com